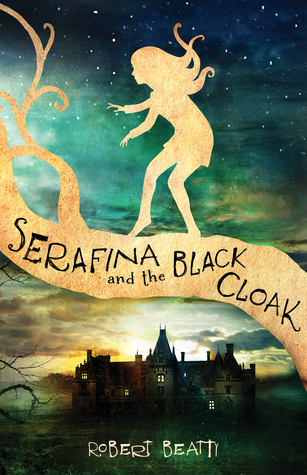 Title
: Serafina and the Black Cloak
Author
: Robert Beatty
Genre
: Children's fiction, fantasy
Publisher
: Disney Hyperion
Publishing date
: July 14th, 2015
ISBN
: 9781484709016
Purchase Link
:
Amazon.co.uk
Synopsis: "Never go into the deep parts of the forest, for there are many dangers there, and they will ensnare your soul."
Serafina has never had a reason to disobey her pa and venture beyond the grounds of the Biltmore estate.There's plenty to explore in her grand home, although she must take care to never be seen. When children at the estate start disappearing, only Serafina knows who the culprit is:a terrifying man in a black cloak who stalks Biltmore's corridors at night. Joining forces with Braeden Vanderbilt. Braeden and Serafina must uncover the Man in the Black Cloak's identity before all of the children vanish one by one.
Serafina's hunt leads her into the very forest that she has been taught to fear. There she discovers a forgotten legacy of magic. In order to save the children, Serafina must seek the answers that will unlock the puzzle of her past.
My Review:
This book had a huge marketing hype around it. All the marketing, the intriguing description as well as the book-cover got me very excited about this book.
In many ways this book would be better off had the author invented a fictional family to go with the castle. Instead he chose to go with the family who are historically linked to the estate, and then he throws history all over the place. Of course all historical fiction does fictionalize a lot of things, but their fictional facts should in some fashion be linked to actual historical facts or theories.
The characters were easy to enjoy but they were a little flat. The mysteries are a bit simple and the books targeted audience (8-12 year olds) wouldn't have much trouble figuring out the mysteries presented in the book. That is everything except Serafina's own "past" which is barely foreshadowed at all and is just info-dumped on the reader in the end. Though it is pretty clear what she is, or it is very well displayed by the books illustrations, but the whole why and whens are just dropped in the end.
That aside, this is a book that can be enjoyed, particularly by it's targeted audience, but the hype around it is insanely overplayed. This is a normal mediocre book which could have been much better had the story been a little more complex and with more colorful characters. If the novel had been longer and there had been more space for the character's to evolve, this would have been a superb book.
By all means, this book turned out to be a huge disappointment.
Se the astonishing book-trailer below (I would watch that movie):