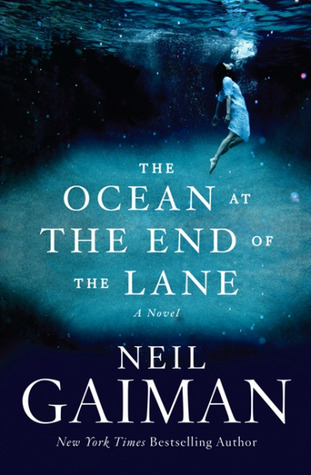 Title
: The Ocean at the End of the Lane
Author
: Neil Gaiman
Genre
: Magical Realism
Publisher
: William Morrow Books
Publishing date
: 18th of June 2013
ISBN
: 9780062255655
Purchase Link
:
Synopsis:Sussex, England. A middle-aged man returns to his childhood home to attend a funeral. Although the house he lived in is long gone, he is drawn to the farm at the end of the road, where, when he was seven, he encountered a most remarkable girl
My Review:
The Ocean at the End of the Lane has been advertised as Neil Gaiman's first book for adults since Anansi Boys. Reviewing a Gaiman book is always hard, because of the nature of his stories and how they might be intended for adults or children but their themes are so universal that they cannot be locked into either.
The Ocean at the End of the Lane was written for adults, but because we see the whole story though the retrospective eyes of a 7-year-old boy much of it reads like a children book. The story touches on human mortality and centralises the innocence of childhood where everything is magical and new. The story starts off slow, but the Gaiman stated that it starts off slow to deter young readers before things get to the grotesque parts.
The story sucked me in from page one, the nostalgic overtone of the story kept me interested and kept me reading. Following the story and feeling with the horror of childhood fears. As all Gaiman's books "the Ocean at the End of the Lane" is instantly quotable, where Gaiman picks at the truth and reality of the human condition and mortality.
"I'm going to tell you something important. Grown-ups don't look like grown-ups on the inside either. Outside, they're big and thoughtless and they always know what they're doing. Inside, they look just like they always have. Like they did when they were your age. The truth is, there aren't any grown-ups. Not one, in the whole wide world."
I thoroughly enjoyed this story for beginning to end, even though it was a very short story. The characters felt real and I was sympathetic to the main character, and the ending came together in a beautiful bittersweet knot.
"And did I pass?"
The face of the old woman on my right was unreadable in the gathering dusk. On my left the younger woman said, "You don't pass or fail at a being a person, dear."