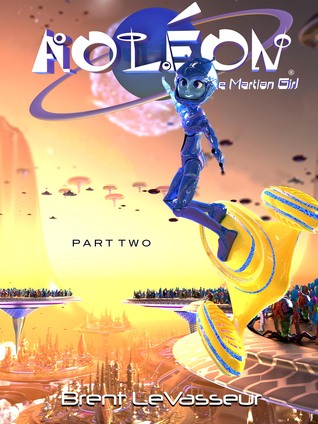 Title
: The Luminess of Mars
Series: Aoleon The Martian Girl #2
Author
: Brent LeVasseur
Genre
: Science Fiction
Publisher
:  Aoléon Pres
Publishing date
: February 23rd 2015
ASIN
: B00S70U8NE
Synopsis: Gilbert gets to visit the Martian Space Academy (Aoléon's school) where he encounters Aoléon's nemesis, Charm Lepton and her friend Quarkina, as well as receiving a history lesson on the Martian people by Plutarch Xenocrates.
My Review:
The book is fast paced and full of adventure just like the previous one. The author has successfully created a resourceful and high energy superhero. For the most part the writing is to the point, but sometimes it seems like the plot loses its grasp on the story and it sort of waddle around, and at some points I think it would have done better with stronger editing.
The graphics are still fun, but I still think they speak more to the younger part of Middle Grade readers rather than the older part. The graphics follow the style of most modern cartoon shows for children.
One thing I really dislike about this series is its clunky and awkward title format. The title format makes it hard to distinguish each volume from the other, and I think it would have benefited from sticking with a traditional graphic novel format or just given each installment a title and call it a series like all other books.
To end the review on a positive note I did enjoy the story for what it was, and I think the writing will be engaging for children who are just starting to read on their own.
Author Bio
Mr. LeVasseur enjoys crafting good stories based on lovable characters designed to translate well to multiple media formats such as books, games, movies, and toys. He lives in New York when he is not commuting between Southern California and Olympus Mons, Mars. His hobbies include writing, 3D animation, musical composition, and intergalactic space travel. He also enjoys various sports such as skiing, running, and exospheric skydiving.
Connect with Brent:   Website  ~  Twitter  ~  Facebook  ~  Aoléon: The Martian Girl