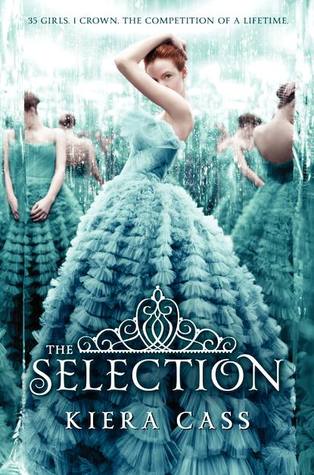 Title
: The Selection
Series
: The Selection #1
Author
: Kiera Cass
Genre
: Teens & YA, Dystopian
Publisher
: HarperCollins UK, Children's
Publishing date
: June 7th, 2012
ISBN
: 9780007466726
Purchase Link
:
Amazon.co.uk
Synopsis: It's the chance of a lifetime and 17-year-old America Singer should feel lucky. She has been chosen for The Selection, a reality TV lottery in which the special few compete for gorgeous Prince Maxon's love. And the prince takes a special interest in her, much to the outrage of the others.
Rivalry within The Selection is fierce and not all of the girls are prepared to play by the rules. But what they don't know is that America has a secret – one which could throw the whole competition… and change her life forever.
My Review:
Wow, where to begin. This book was so much more than I expected it to be. I went into this book seeing a gorgeous cover and a tagline that was somewhat a  washed up crossover between Wither (By Lauren DeStefano) and The Hunger Games. When I started reading I could not put it down, and I put off reading it to the last possible moment, now I wish I started sooner.
The story of America is a gritty story of a poor girl thrown into a world of luxury. From Rags to riches. Her ability to be honest and genuine wins her Prince Maxon's affection. Through her outspokenness and sometimes plain rudeness, there is a character who feels real. Another thing I really appreciated with this book is that the "love-triangle" is very downplayed (because I loathe love triangles).
America's struggle is more about moving on from her first love and falling in love with Maxon. This get's more complicated when her former love ends up being a guard at the palace. But because both the romances are built in a slow pace, the triangle become more realistic and reliable. In some way it is a futuristic Cinderella-story with a twist.
For future installments I hope the story of how the world evolved will come into view. Also the question of who the rebels are and what they want, remain unanswered, but hopefully the future books will answer these questions.
It's years since this series was first published, and I sincerely regret not getting into these books sooner.