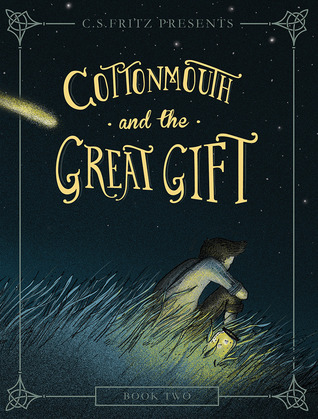 Title
: Cottonmouth and the Great Gift
Series
: Cottonmouth #2
Author
: C. S. Fritz
Publisher
: David C Cook
Publishing date
: September 1st, 2014
ISBN
: 9781434706904
Purchase Link
:
Amazon.co.uk
Synopsis:When his best friend comes back to life, Freddie is determined they'll never be apart again. But to find him, Freddie must rely on three mysterious gifts Tug left him.
My review:
Again we meet little Freddy who is alone in his house. It takes a little while before Tug shows up with the task he has for Freddie. Alone, with only a bird, Yellowthroat, as a friend Freddie has to set out on a dangerous mission, to deliver a black egg to a sad girl.
The illustrations are still as spectacular and simplistic as in the previous book. The narrative is easy to follow and it's just enough text.
"Tug was silent for what felt like many long minutes, and right as Frederick was opening his mouth to break the silence, Tug spoke listen very closely …Frederick. I have to tell you something very important. I need you to do something for me. I need you to go and deliver something to someone who is in grave despair. I don't want you to be naïve, Frederic, this is a dangerous thing I ask of you."
It is easy to see how this story is a retelling of the ascension of Christ into heaven as an adult reading the story, but the hints are not overwhelming which makes the book readable outside of a religious context as well. It is a story of struggles and friendship, which everyone can relate to.