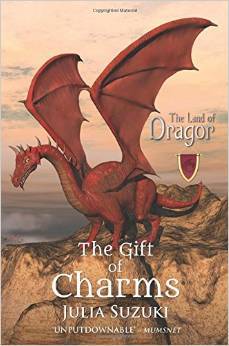 Title:
Gift of Charms

Series:
The Land of Dragor
Author
: Julia Suzuki
Publisher
: Dino Books
Publishing date
: September 14th, 2014
ISBN
: 9781782199243
Purchase Link: 
Amazon.co.uk
Synopsis: In a secret land, far away from the habitation of man, dwell the world's remaining dragons — hoping the dragsaur beasts have vanished forever. Here they try to live their daily lives, but all is not well and their talents are fading.
Things change, when, from a strange egg, Yoshiko is born – a dragon with a unique destiny.
My Review:
Gift Of Charm' is a charming book about dragons living in a land hidden from mankind. It is told in a light voice and the narration is very easy to follow. Young Yoshiko grows from a young hatching and into a confident young dragon. The book is aimed at middle grade and challenges that pre-teens are addressed and easy to recognize.
Yoshiko grows up in a very conservative dragon culture which doesn't tolerate uniqueness. Because Yoshio is different he easily falls prey to the more prideful dragons in his class (a group of purple dragons)  and ends up being bullied by them. In this way the book encourages tolerance and acceptance of people's differences.
The story was very enjoyable, though a lot of information was given through dialogue. This choice stayed consistent, and it fitted the narrative. Also the dragons was very people like, which was okay for this kind of book, though I would have liked to see some more dragon in the dragons.
Most of all this story as a very fresh breath of originality to it, which will help it stand out from other books in the genre.
Overall I found this story cute and enjoyable, and I really look forward to future books in this series.