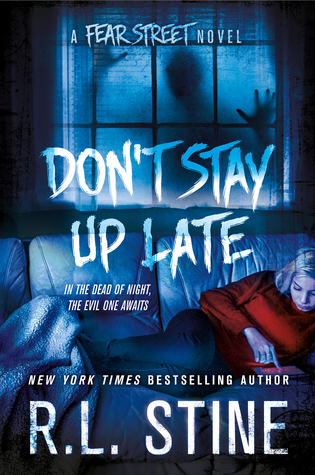 Title:
Don't Stay Up Late
Series: 
Fear Street Relaunch
Author: 
R.L. Stine
Publisher: 
St. Martin's Griffin
Publication Date: 
07.04.15
Purchase link:
Amazon.co.uk
ISBN: 
9781250051622
Synopsis: Lisa Brooks is plagued with nightmares and hallucinations. Could they be caused by the horrifying accident that landed her in the hospital for weeks?
When Lisa finds out that a neighbor is looking for a babysitter for her little boy, Lisa jumps at the chance to keep busy and take her mind off of her troubling thoughts. But then the murders start — and her friends begin dying one by one. Are Lisa's nightmares coming true?
My Review:
As many for many others, R.L. Stine was a part of my child hood. When I was younger I couldn't wait to get my hands on the new Goodsebumps book, and I loved the TV-show as well. My favorite series of his was Fear Street, I loved those books even more than Goosebumps. It was with a sense of nostalgia I wanted to read Don't Stay Up Late.
Maybe I had too high expectations for this book, maybe my younger self put R.L. Stine on a too tall pedestal. Regardless how it came to be, I was largely disappointed after reading this book. The narrative is sloppy and I had a hard time continue reading past the first chapter. It has a lot of telling instead of showing, and though I suppose this is directed at a teen audience I felt that all the telling was more a short cut to tell the story faster. I think this should be advertised as MG or even children's book rather than being in the Teen & YA section.
As much as I loved Mr. Stine's books as a child, I suppose I have outgrown his writing style.