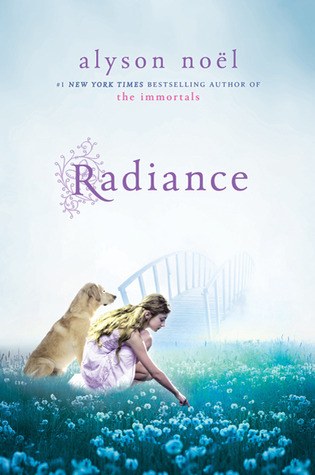 8/10
Radiance is the first book in a new series, "The Riley Bloom"-series, by the YA-author Alyson Noël. Alyson is widely known for her "The Immortals"-series. Her new series is aimed at children and teenagers from age eleven.
I enjoyed reading "Radiance", but I enjoyed it more before realizing that it was a series. It's very clear that this book is a children's book and for a children's book it touched a very serious theme. The protagonist in the novel is twelve years old and she died in a car accident and is now in "Here" were the time is always "Now." We meet her as she has to deal with the fact that she's dead and she slowly learns to cope with the afterlife.
In my opinion this is a subject that is often avoided if children bring it up, because we (the older ones) believe they are too young to know, and as I see it this is wrong. Children should learn that there is something called death, they don't need to know all the hard facts but the subject shouldn't been avoided. I, myself, had a lethal disease when I was a child (I recovered) and because of that I believe it is important that children know that there is something called death as is can happen to anyone and I didn't suffer from knowing about death at that young age.
"Radiance" touch the subject of death in a very delicate way and very friendly way, a little like in "The Brothers Lionheart" by Astrid Lindgren.
During "Radiance" the protagonist Riley Bloom learns to cope with the fact that she's dead. In the beginning she think it is very unfair, she thinks someone has taken away her right to live. Nobody answers her questions and she is very frustrated but slowly she start to accept the change in her life and she realizes that death is just a transition. Without glorifying death it is slowly shown that in the "Here" is the place where everyone finally can live the life they always wanted, people never live as much as after they are dead.
I believe that the way Alyson approach the concept of death is a way that let children accept death as a natural part (end) of life. Her way is religious neutral and there are no scare tactics and no judgement in the way world religions describes the afterlife.
What I didn't like so much about this book is that for me it was quite predictable. It was easy for me to guess what would happen next, but as a children's book it is no doubt a really good book.